On-Purpose Peace Bundle: $39, Save $21
Everything you need in one sweetly discounted bundle over the a la carte purchase. Includes:
The On-Purpose Person: Making Your Life Make Sense. The softcover edition ($15 value) of this bestseller with over 300,000 copies sold in the US plus five foreign translations began a movement and conversation about purpose. This is the primary reading for participation in an On-Purpose Peace Gathering.
On-Purpose Peace: Find What You've Been Searching For is the companion workbook for Christians reading The On-Purpose Person. The workbook includes reading assignments, commentary, Want List and Tournament forms — everything you need to become an on-purpose person in creation. In addition, there are free supplemental videos on this site to accompany your journey of being on-purpose. ($25 value)
ONPURPOSE.me is an online tool single-use voucher that is electronically delivered to your email address upon purchase. Included in your purchase is the ten-part Poured Wisdom email course that further helps you be on-purpose. ($20 value)
Individual purchases are available by clicking on each title above.
Every member of the Gathering needs to have his or her own On-Purpose Peace guidebook to capture thoughts, complete work exercises, and follow instructions from session to session. We highly recommend each participant also has their own The On-Purpose Person, but this book can be shared.
Click here to be taken to our bookstore which is located on a separate website: www.onpurpose.com/shop. Quantity Discounts are not available.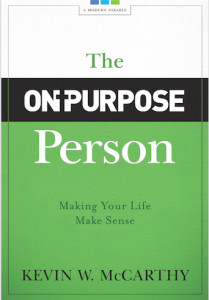 The On-Purpose Person: hardcover $20, softcover $15. Kindle: $9.97. Kindle Unlimited: $0.00.
The On-Purpose Person is a modern parable of one man's journey of personal discovery of his purpose in life and taking action and responsibility for leading his life thoughtfully and honorably.
This book pioneered the now popular discussion about purpose. Originally published in 1992, but updated and re-released in 2009, this message is only gaining in relevance to contemporary life. Kevin W. McCarthy's thinking and writing that created the On-Purpose® Approach remains on the leading edge of society. While others have you searching for purpose, On-Purpose has you living into your 2-word purpose.